The overview below is provided to ensure that your child can continue to access learning whilst absent from school.
Your child's teacher will provide the learning to be completed in the allocated slots on the timetable. If your child is unwell there is no expectation that they complete the activities on this timetable but would do what they can when you feel they are well enough.
These continue to be unprecedented times and we must work together to ensure that children's learning continues to progress. As during lockdown, teachers will remain in touch and will respond to any queries you may have. This timetable and accompanied learning is not meant to burden you at home but to provide clarity of what your child is expected to do when unable to access school.
Thank you for your support, keep following us on Twitter and together we will continue to make this work.
How we structure our day at school
Self registration
Reading books
Word wallet time
Milk & Snack
Story /
Numberblocks /
Pobble Talk Time
Child Initiated learning time including Rainbow Challenges
Completion of adult led activities.
Child Initiated learning time including Rainbow Challenges
Completion of adult led activities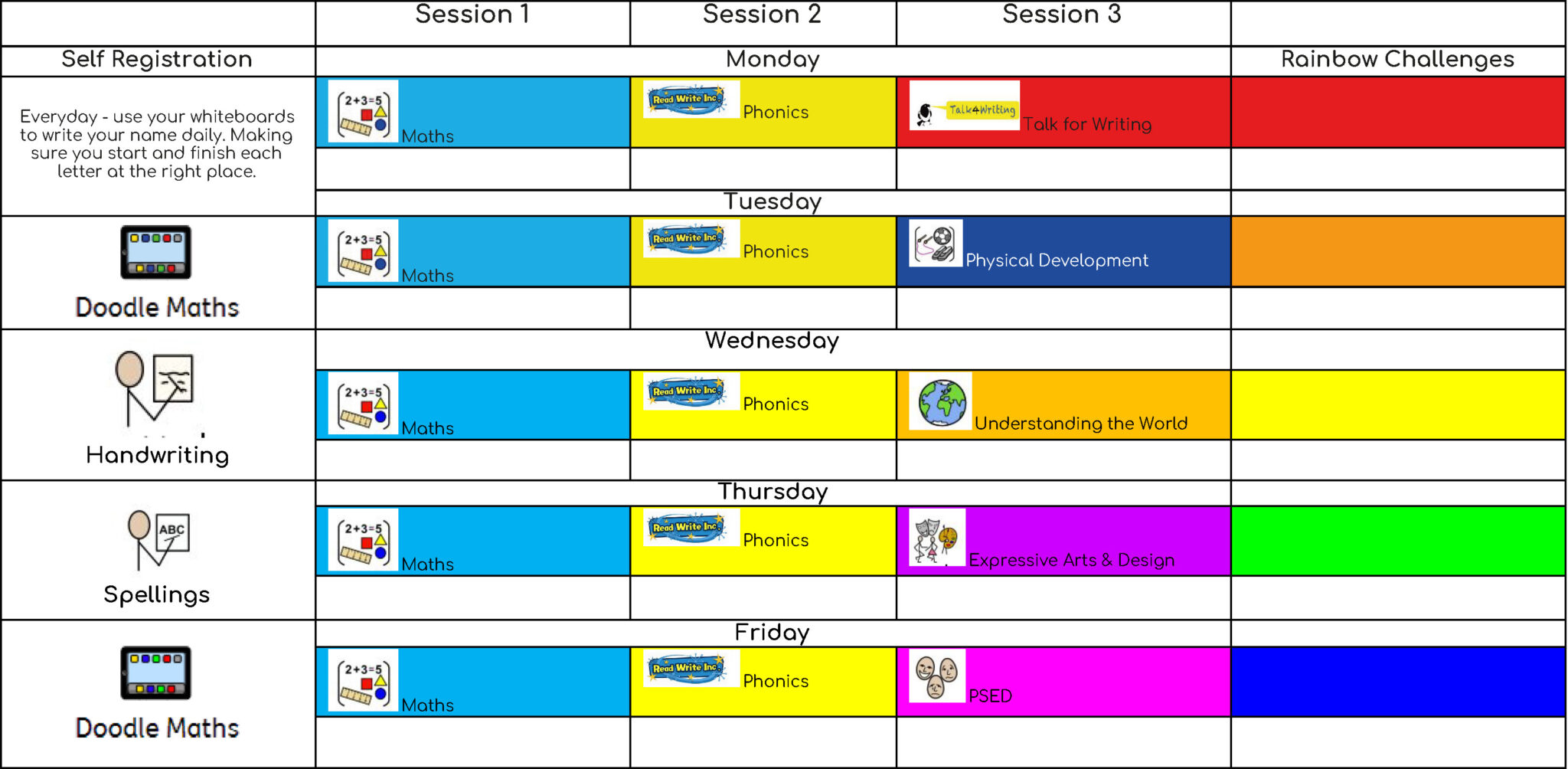 Doodle Maths - Log onto to Doodle Maths and complete your 5 a day.
---
Purple Mash - Log onto Purple Mash and complete your 2Do
---
Discovery Education - Log onto Discovery Education Espresso and play some of the Maths / Scraps Phonics Games.
Username: student24971 Password: newyork
Click onto Phonics Play and have a play of some of the Phase One & Phase 2 free games.
---
BBC Bitesize Phonics to watch some of the Phase 2 videos. https://www.bbc.co.uk/bitesize/topics/zcqqtfr
---
Go online to Cbeebies (or download the app if you have
a tablet) and choose Numberblocks or Alphablocks activities
https://www.bbc.co.uk/cbeebies/shows/numberblocks
Please try to share a book every day.
Make a prediction – Look at the front cover. What do you think this book will be about? What do you think will happen next?
Part way through the story stop reading and ask your child to tell you what they think might happen next or draw you a picture of what they think will happen
---
Clarify – Are there any words that you haven't heard before? What do you think they mean? Can we think of another word that means the same thing? Should we find a picture of one?
---
Questioning – Why did they say that? What might they be feeling? How do you know?
---
Summarise – What has just happened on this page/in this story? What has happened so far? Retell the story in your own words or draw your favourite part of the story.
Everyday use your name card and whiteboard to practice writing your name - starting with your first name - making sure that you start each letter in the right place.
Why not use your whiteboard to practice writing the sounds we have learnt so far saying the Read Write Inc letter formation sayings (see attached)
Use the sound cards in your word wallet to make the words included.