Initial Teacher Training (ITT)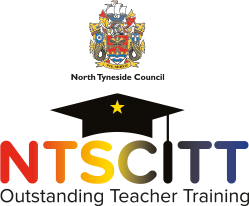 We are proud to be a Consortium School for the North Tyneside Early Years School Centred Initial Teacher Training (SCITT) Programme.
This 'Outstanding' (Ofsted 2016) course combines extensive, high-quality classroom experience with expert guidance.
At New York Primary School we welcome trainees in Foundation Stage and Key Stage One and Key Stage Two for Initial, Intermediate and Final Placements.
As a consortium school we are also part of the SCITT Management Team.
This year we will be delivering a Music Good Practice Days for the SCITT trainees, supporting in the Phonics and Early Maths workshops, offering support towards understanding context and pupil premium as well as hosting SCITT Trainees for 'Every Lesson Outstanding taster sessions , SEND and differentiation workshops during the Spring & Summer terms.

During Autumn Term we welcomed Miss Forster into Year 1 with Mr Lisle 

In Spring Term Miss Burns joined Year 5, working with Mrs Duckworth. 

During the Summer Term we will welcome SCITT trainees for their final placement. 

The North East Partnership SCITT is the largest physical education provider in the north east of England and one of the largest in the country. We are proud to be a partnership school in supporting trainees to become qualified primary school teachers in the five to eleven range, with a specialism of physical education.
Trainees spend the majority of the year in their Host School and have a contrasting placement in a Partner School. We offer placements in both KS1 and KS2 whilst providing curriculum study days in EYFS. Throughout the year, there are three placements where we will support two different trainees to progressively develop their subject knowledge, pedagogy, skills and understanding in all areas of the primary education, including in their PE specialism.
We are also proud to support the North East Partnership SCITT in the delivery of the core programme including curriculum studies in both core and foundation subjects. This year, we will be delivering sessions in English, Maths, Art and Geography as well as hosting the trainees for Every Lesson Outstanding taster sessions and pupil premium and SEND workshops.
For further information and potential applicants wanting to apply, please visit www.nepscitt.co.uk
School Direct 2021-2022
New York Primary School has a long standing successful relationship or collaboration with the North Tyneside SCITT.  This programme continues to support additional places via the School Direct Alliance. These are non salaried places through New York Primary School with UCAS reference 1NB.  All candidates successfully recruited onto the Schools Direct programme are supported by school and centre based training with 3 varied school placements.
New York Primary school has been involved with the North Tyneside SCITT for many years including recruitment, placement and ongoing specialist CPD. We relish working with enthusiastic students and have moved to appoint students from the SCITT as teachers in school. New York prides itself on dedicated and determined staff who want to make a difference and want to support those training for the profession to be excellent practitioners.  We are a creative team with current, up to date knowledge within a demanding and fully inclusive environment.  We have an exceptional EYFS provision with superbs facilities including outdoors including our own woodland area on site. As a result our whole school curriculum is designed to best develop our pupils to attain well, aim high and be the best they can be.
To find out more about the School Direct Course and to download a prospectus, please follow the link below to visit the NT Scitt website.