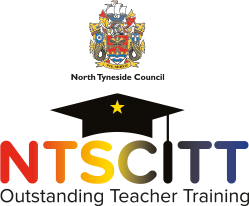 We are proud to be a Consortium School for the North Tyneside Early Years School Centred Initial Teacher Training (SCITT) Programme.
This 'Outstanding' (Ofsted 2016) course combines extensive, high-quality classroom experience with expert guidance.
At New York Primary School we welcome trainees in Foundation Stage and Key Stage One and Key Stage Two for Initial, Intermediate and Final Placements.
As a consortium school we are also part of the SCITT Management Team.
This year we will be delivering a Music Good Practice Days for the SCITT trainees, supporting in the Phonics good practice workshops, offering support towards understanding context and pupil premium as well as hosting SCITT Trainees for 'Every Lesson Outstanding taster sessions , SEND and differentiation workshops during the Spring & Summer terms.

During Autumn Term we welcomed Miss Garett, Miss Wesley & Miss Cain for their initial SCITT placement.

In Spring Term Miss Hancock worked in our Year 3 class, Miss Wardle worked within our Reception class alongside Miss Eiles and Mr Stephenson became part of the Year 2 team with Mrs Prince.

We will welcome Miss Burn in the Summer Term who will carry out her final placement with Miss Hollywood's reception class.
School Direct 2017-2018
​The North Shields Collaborative Teaching School Alliance is delighted to continue its close collaboration with the North Tyneside SCITT. For 2017-2018 the North Tyneside SCITT has a number of additional places via our School Direct Alliance. A small number of non-salaried School Direct places are available via New York Primary School UCAS ref no. 1NB. Successful School Direct applicants will receive school and centre based training through North Tyneside SCITT.
New York Primary has been involved in the SCITT programme for many years, placing a wide range of enthusiastic students across school as well as appointing from the pool of talented individuals. The school prides itself on it's commitment towards diminishing the difference through creative practice, ensuring that we are fully inclusive. We have a purpose built Foundation Unit with access to an outdoor environment. The school grounds provide an exciting outdoor learning space which includes a mini forest school on site. This supports the school in its aim to offer a creative and motivational curriculum for all.
To find out more about the course and to download a prospectus please follow the link below to visit the NT SCITT website:
NT SCITT Website: http://www.ntscitt.org.uk
You can also follow them on Twitter:
@NTSCITT Twitter Account: https://twitter.com/NTSCITT